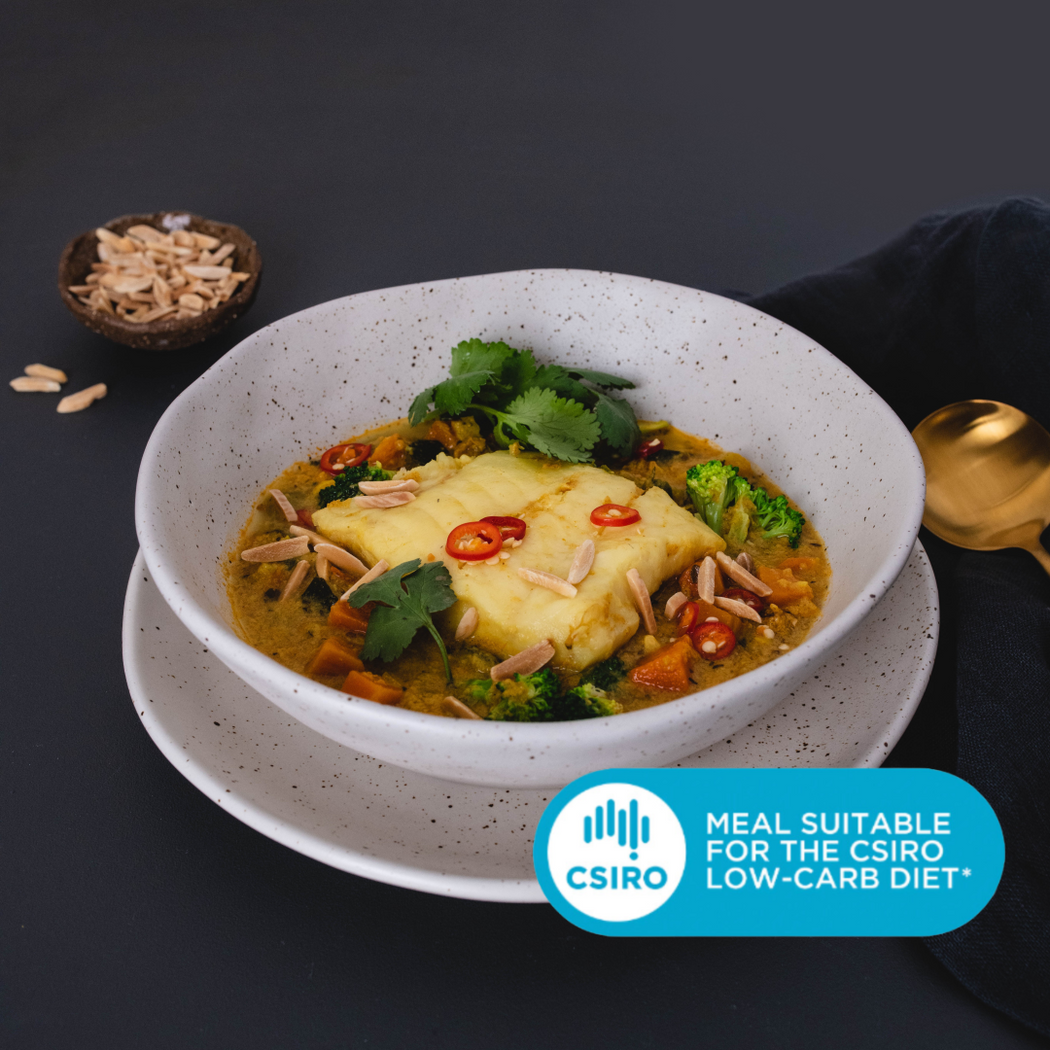 Indian Fish Curry
Steamed white fish topped with an Indian spiced curry sauce, with seasonal vegetables, finished with fresh coriander and toasted slivered almonds.
Heating instructions 
Microwave: Pierce film before heating. From frozen, heat for 4-5 minutes on high. From defrosted, pierce film and heat for 2-3 minutes. Peel back film carefully as product will be hot and stir and heat further if required. Stand for 1-2 minutes for natural water content from meal to settle before opening. Cooking times are a guide and may vary depending on your appliance.
Stove: From defrosted, transfer meal to a saucepan and stir as required until heated through
Storage
Keep frozen. Once defrosted, keep refrigerated and consume within 3 days.
 *Made on Equipment That Also Produces Products Containing Crustacea, Egg, Fish, Peanuts, Soybean, Tree Nuts, Sesame Seeds
Units Per Serve
Breads, cereals, legumes, starchy vegetables = 0.0
Dairy = 0.5 
Lean meats, fish, poultry, eggs, tofu = 1.0
Low-Moderate carb vegetables = 2.0
Healthy fats = 1.5
CARBS 9g

Nutrition
INGREDIENTS:
Hoki (Fish) (33%), Broccoli, Zucchini, Water,
Diced Tomato (Tomato, Citric Acid), Coconut
Milk, Carrot, Almonds, Onion, Milk Powder,
Olive Oil, Ginger, Garlic, Tomato Paste, Corn
Starch, Coriander, Pink Salt, Chicken Stock,
Cumin, Turmeric, Ground Coriander, Curry
Powder, Thyme, Marjoram, Sage, Cardamom.
ALLERGENS:
CONTAINS: FISH, MILK, ALMONDS
MAY CONTAIN: Crustacea, Sesame Seeds, Peanuts, Egg, Soybeans, Lupin.