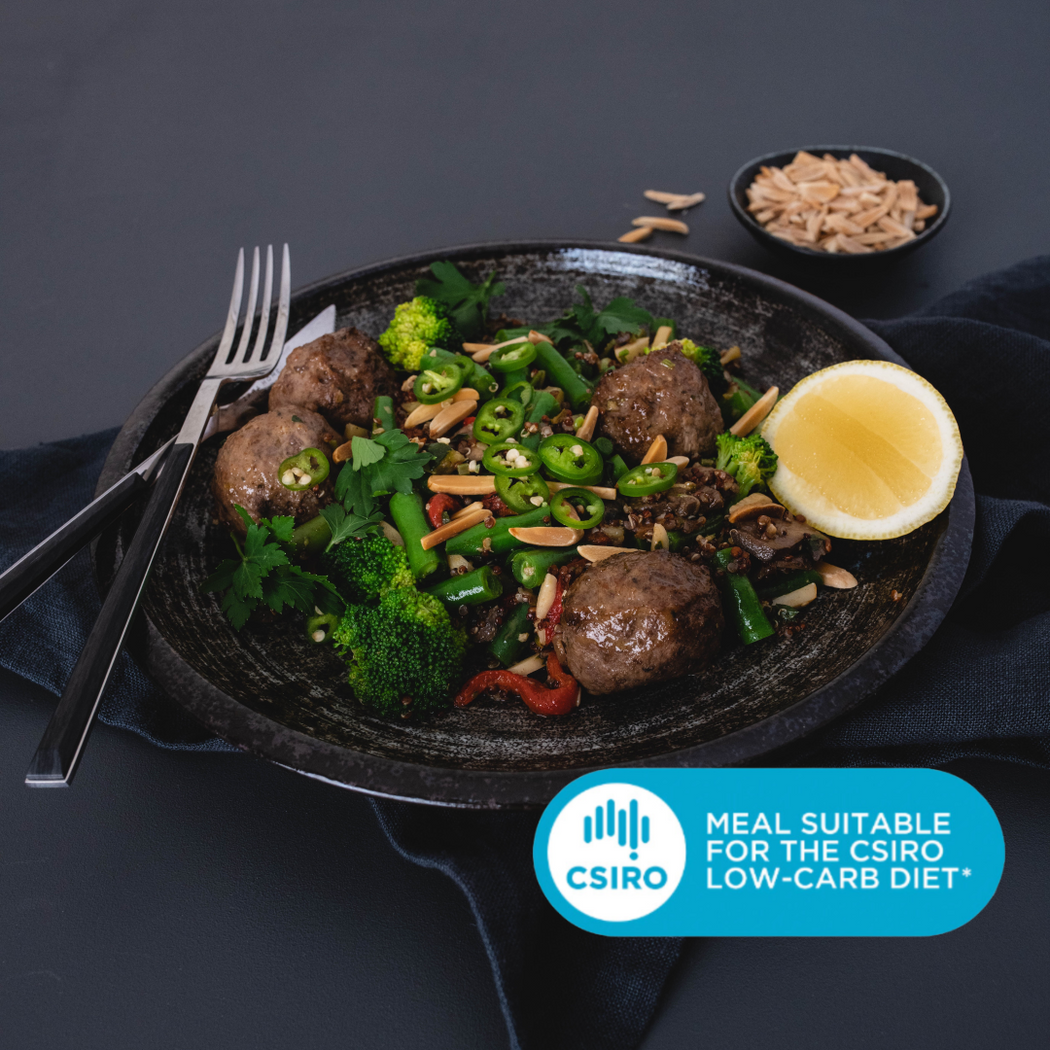 Lamb Kofta with Middle-Eastern Quinoa
Lightly spiced Lamb Kofta with aromatic spiced Red Quinoa & Vegetables.  
Heating instructions 
Microwave: Pierce film before heating. From frozen, heat for 4-5 minutes on high. From defrosted, pierce film and heat for 2-3 minutes. Peel back film carefully as product will be hot and stir and heat further if required. Stand for 1-2 minutes for natural water content from meal to settle before opening. Cooking times are a guide and may vary depending on your appliance.
Stove: From defrosted, transfer meal to a saucepan and stir as required until heated through
Storage
Keep frozen. Once defrosted, keep refrigerated and consume within 3 days.
*Made on Equipment That Also Produces Products Containing Crustacea, Egg, Fish, Peanuts, Soybean, Tree Nuts, Sesame Seeds
Units Per Serve
Breads, cereals, legumes, starchy vegetables = 0.5 
Dairy = 0.0
Lean meats, fish, poultry, eggs, tofu = 1.0 
Low-Moderate carb vegetables = 1.0
Healthy fats = 1.5
CARBS 11g

Nutrition
INGREDIENTS:
Lamb Mince (27%), Zucchini, Green
Beans, Broccoli, Onion, Red Capsicum,
Quinoa (5%), Olive Oil, Almonds, Parsley,
Garlic, Lemon Rind, Vegetable Stock,
Cumin, Lemon Juice, Pink Salt, Chilli,
Paprika, Chicken Stock, Cardamom,
Oregano, Thyme, Pepper, Ground
Coriander, Chilli Powder.
ALLERGENS: Contains ALMONDS
MAY CONTAIN: Fish, Crustacea, Sesame Seeds, Peanuts, Egg, Milk, Soybeans, Lupin